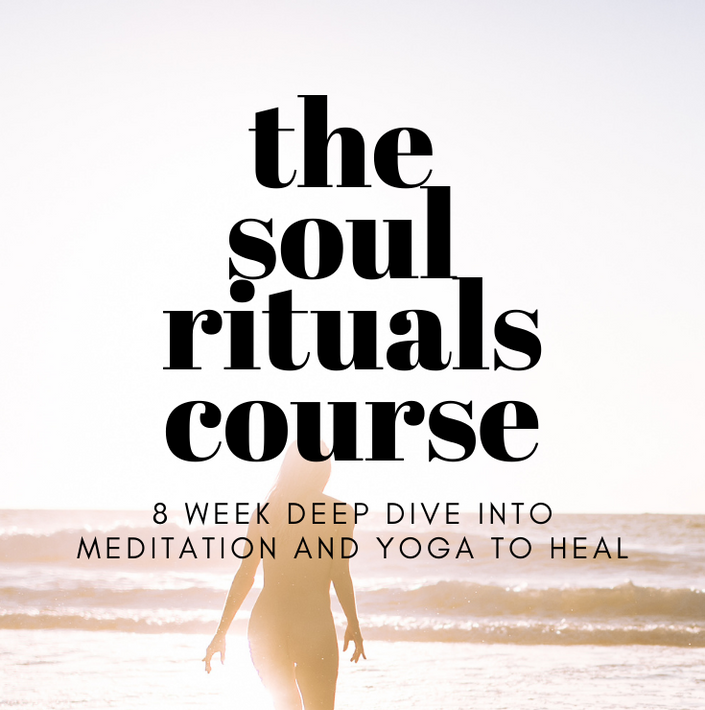 Rituals of the Soul Online Program
An 8 week deep dive to calm your mind and heal your life using yoga.
Watch Promo


Get Clear, Tune In, Create a Plan,
and Make It Happen.
**Your soul is begging you to live a big, bold, meaningful life and this course is here to get you started living it!
If dreams are intuitive messages from the soul, then our life purpose can only be to take those dreams and manifest them.
When we begin listening to this inner voice and allow it to guide our journey, our lives transform into an experience full of passion, meaning, purpose, excitement, inspiration, and happiness.
First, we heal.
Then, we create magic.
---
The Soul Ritual's Course is an 8-week meditative journey taking you through the 8 stages of yoga to guide and support you to heal your mind, calm your nervous system and connect with yourself. By committing to these weekly exercises, you will create space, develop presence, learn to feel on a deeper level, eradicate the subconscious blockages holding you back and start creating a new reality for yourself.
This course will help you identify what your dreams are and create a strategy to manifest them. You will create your own personalized yoga prescriptions made specifically for what you need and want out of life. Even better, you will know how to recreate your rituals wheneber needed.
nurture a healthy happy you
tell me,

Do you have big, bold dreams but are unsure how to start making them happen?
Do you wish for a more passionate and inspired life?
Are you ready to feel your life has meaning and purpose?
Do you want the peace, calm, and contentment you heard yoga can give you?
Are you feeling stuck, sad, unsettled, and want to get out of it?
Are you dealing with grief, heartbreak, depression, anxiety and/or general unhappiness?
Are you ready to heal? Thats what you really need to know.
If you answered YES to any of these questions, then you absolutely belong here!
this is for you if,
You want to holistically heal your body and mind.
You want to change your current habits/addictions and create a healthier lifestyle.
You want to silence your self-sabotaging, highly-critical, anxious inner voice.
You want more clarity around your purpose.
You want to speak the language of your intuition and feel a connection with your soul.
You want more peace, calm, happiness, confidence, self-worth, and contentment.
You want to create your own personalized yoga prescription for a healthy you.
For many years, I was just getting by. I had big dreams, but I never went after them. And despite the thousands of hours of yoga and meditation I practiced, I was still not deeply happy, confident or satisfied. I definitely didn't feel I was living my "purpose."
For so many years, I was just surviving. When I began using yoga as an 8-step approach to living, this is when everything changed for me.
This program will change your life.
This is a yogic meditation course that feels more like a life coaching program. In this fresh, new perspective on yoga, you learn the secret art of living with more soul. Yoga comes from the Sanskrit word "Yuj" and means to connect or unite. This 8-step system was designed by the ancient yogis of India to help guide you towards your truth.
If you are a yoga teacher or a yoga lover, you will love this new outlook on the old spiritual science and fall in love with the new way of using yoga.


If you are a beginner yogi, you will learn how to use yoga to heal and empower your life.

If you are a spiritual seeker, right away you will be guided deep into yourself - to find out more about who you truly are.
** This course does not focus on the physical part of yoga. We will be doing deep work in the mind and subconscious, please do consider getting additional professional support through this healing journey if you have intensely painful past traumas.
"A yogi engages himself in a definite, step-by-step procedure by which the body and mind are disciplined, and the soul liberated"
Paramahansa Yogananda
"I have made such HUGE shifts, thanks to these amazing tools that Kori has so amazingly and beautifully provided to us over the last 6 wks! I am so grateful for her being called to share these teachings in a real-world translation & guiding and aiding us with the implementation process. This program has taught me that I am enough & I am worthy of all of the amazing & even a bit crazy, ideas or dreams I can come up with! I will continue to practice and evolve my rituals to keep my life moving forward, all while I keep my vibrations elevated and manifesting the shit out of the life I now realize I totally f*cking deserve! ;p I hope we can all continue to share stories, advice and support for each other through this group for a long time to come!" --Aubrey M.-
"I enrolled in this course to try to find out why I came to this world? what I came to do to this world? what benefits my existence can bring to humanity? Too many questions seething in my head...And with so many questions, doubts, I couldn't see what my dream was...Until I spoke to Kori, and she made me realize that maybe my present dream is to answer these questions, find my life purpose! Because I entirely agree with what Arty said: 'It's hard to create what you want if you don't know what you want!' and sincerely scares me not knowing exactly what I want! Thank you Kori for opening my eyes and show me the way." - Andrea -
HERE'S HOW THE PROGRAM WILL WORK
WEEK 1

Creating Space.
This week our intention is to create more spaciousness in your life for newness to grow. We will explore the first 3 stages of yoga: (1) all the yogi's rules and (2) virturesfor being a spiritual person and (2) the yogic concepts and techniques for letting go and creating space. This week's we will take a magnifying glass and look into every single aspect of your life to find out what is serving you and what isn't.
WEEK 2

Get Present.
This week' offers us a powerful lesson on presence and mindfulness (not only manifestation but our overall happiness.) You will learn practical exercises to help you to live more in the here and now. There are guided breathwork and meditation sessions for you to choose from to continue clearing out what isn't serving you and tapping into your soul beneath the clutter. Your goal this week is to stop living in the future (hello, anxiety) by shifting your focus on the now (ah, there you are peace). Only when we are living in the present do we become aware of all of the opportunities always surrounding us.
WEEK 3

Stop and Feel.
Week three we will stop and feel, like really deeply, feel. This week's video and practices will teach you to feel on a molecular and subconscious level by moving beneath our sensory outer layer (In yoga this is called pratyahara). In our modern world, we often avoid listening and feeling on a deep level because painful memories resurface pulling us away from our intuitive 6th sense always guiding us. By learning to feel, you become fluent in your soul's language, intuition. As you learn to deeply feel and become more intuitive, your dreams become louder and clearer (hello, epiphanies). As Carl Jung says, "Only the dreamer knows the dream."
WEEK 4

Create Your Intuition Rituals.
This week you will create your own unique Intuition Rituals. This is your mental detox yoga prescription. It works by helping you to make NEW daily habits to create more space, be in the here and now and stop and feel. When we do these three things often, we begin feeling exactly what the soul is asking us to do. These rituals will get you crystal clear on what your dreams actually are.

WEEK 5

Unblocking.
This week we explore what is stopping you from going for what you want (and at the worst of times simply not fulfilling your own needs). Our limiting beliefs sabotage us from becoming the spiritual, successful, incredible person we dream to be. The sixth step of yoga, dharana, teaches us to HEAL by revealing and remedy-ing the ways we self-sabotage. You will learn powerful tools for removing obstacles by training your brain that you can.
WEEK 6

Believe and Trust.
This week's module explores the energetic power of change within the universe and teaches you ways to embrace this energy. This step of yoga is a powerhouse of a lesson on giving up control and trusting. Only when you deeply believe in yourself (self-worth) are ready to manifest! We will be discussing the yogi's timeline of manifesting, rituals for prayer, how to create your own alter, practices for increasing self-worth and confidence and more. This is my favorite week.
WEEK 7
Manifest.
In this week's module, you will learn how manifestation is a path of spiritual growth, a cycle. Along this path, you can manifest not only a new apartment, but manifest enlightenment, Heaven, Shangri-la, Zion, and liberation! Holy Moly! In yoga, this final stage is referred to as Samadhi and it is the ultimate moment of manifestation in many different ways. Your mind will be blown this week as you see all the pieces come together! You definitely do not want to miss this week, It is a keeper!


WEEK 8

Create Your Yoga Prescription.
When it comes to manifesting, you need a good strategy. Now that you know all the steps, the concepts, and the tools, it is time for you to create your own roadmap to get you from where you are to where you want to be. To do this, all you need are your simple little set of baby steps. In our final week together, you/we will create a unique yoga sequence, your holistic manifestation prescription, to keep your mind clear, body calm, and your heart full. These rituals will take your dream and bring it into your reality. These rituals become your sadhana - your spiritual daily practice.
Purchase Includes:
8 weekly modules - most modules includes 1-2 conceptual explanatory yoga theory videos, supporting meditation practices, breathwork sessions, and creative journaling prompts.
The Soul Rituals FB group is our community space for support, accountability, friendship, inspiration, advice, and/or whatever else you might need.
HOW MUCH COMMITMENT MUST YOU MAKE?
You can put as much time and energy into this program as your heart craves. If you commit 15-30 minutes to this course each day, you will complete it and feel the benefits.
You can come back and re-create your set of rituals anytime you need (because as life changes, the rituals we need will do)
Just remember that the more you put in, the more you get out. Your level of commitment and the extent of your intentions through the program are up to you. You must decide for yourself if these 8 weeks are about diving deep or floating on the surface. That's the thing about soul-guidance, only you know the answer. (more on that once you are inside).
"I recently wrote about how I used the Soul Sessions to help me through child birth. I really loved that we sampled so many different types of meditation so we could later pick and chose what works for own rituals. But I also liked having an overarching goal or theme for each week so I could focus on one thing throughout each different meditation. Also, the whole thing was highly motivating in the meditation department. I was able to keep up with each week by doing 15-20 minutes a day. In the end, I had created a small space of inner peace that I retreated to during delivery. I focused on manifesting a safe and healthy birth where I could manage the pain. While I didn't get the epidural I was expecting, I did have a fast, relatively easy birth that resulted in a beautiful, healthy baby boy called Makai!" - Audrey-
"I love the soul session, as I am always curious and a big believer in following your heart and intuition. And connecting with women all over the world is just amazing. Together we are strong! I am looking forward to being part of the next session, a chance to virtually meet more amazing women. Thank you Kori for the amazing program you set up and the enthusiasm you put into it! Can't wait to start again.... " Nicole.
'Your course really helps me so much the last weeks ♥️ to come in action now!! I wrote an application to the biggest Ayurveda School and Retreat Centre in Germany and I probably will begin to work thereafter some conversations in September!! yeah!! so next to my own praxis I begin to teach Yoga and Ayurveda and will help Indian doctors with the therapy!! I am very happy that I did the step and that I send a whole application ( I only did two times lol). Thank you" Cora A.
"I'm super stoked that I got to take part in this group. This has definitely pushed me into holding myself more accountable in self care. It was a struggle at times for sure and I know I'll have my "good" days and "bad" on how well I commit to myself. I just think that it's so cool that a bunch of badass ladies from all over the world collided at this moment in time because they knew there was something more out there to tap into in this human experience. That pretty rad if you ask me. Thank you everyone for sharing/vibrating on this path. Thank you Kori for guiding us, sharing your knowledge and being so open. Much appreciated!" - Robin H.-
"This morning I got super annoyed at my 2-year-old. I was just on the edge of losing it but instead, I went with her into the back yard and included her in my soul rituals. First, we took a few deep breaths, then we yelled at the trees cause we were both very frustrated. And then we told each other what we are thankful for. Aila was thankful for trees, porridge, and her skinny jeans. Made my day ♥️ thanks Kori Hahn for sharing your knowledge with us. So much appreciated" Sarah Sarson
Frequently Asked Questions
When does the course start and finish?
The Soul Sessions is a completely self-paced online course andill stay available to you afterward.
Your Instructor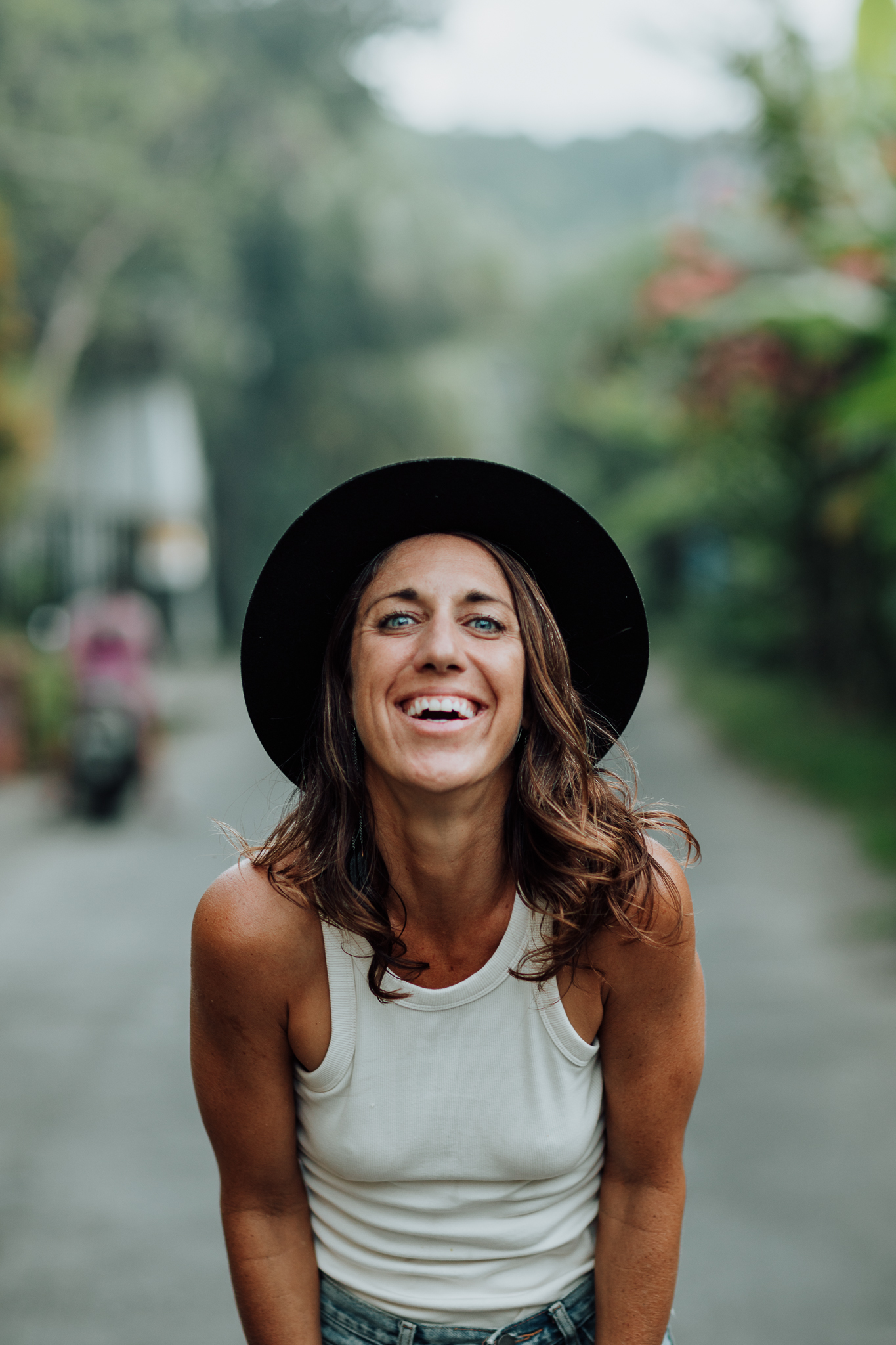 Kori Hahn is a highly experienced yoga teacher, author, and founder of the Santosha Society, a community focused on cultivating contentment and inner peace. With over 20 years of yoga training and experience, Kori is a Yoga Alliance Certified Yoga Instructor and Government of India certified Ayurvedic Massage Therapist.
After teaching yoga around the world for 15 years, Kori is now based in Bali, where she writes and teaches virtually. Her teaching style is a unique blend of Ashtanga Yoga, Yin Yoga, Integrative Restoration Method of Yoga Nidra, Vipassana Meditation, Bali Usada Healing Meditation, Tibetan Buddhism, psychology, metaphysics, astrology, Hinduism, and Ayurveda.
Kori is also the author of the book, "Rituals of the Soul," which offers powerful insights and practices for cultivating self-awareness, inner peace, and contentment. With her wealth of knowledge and experience, Kori is committed to helping individuals find balance, healing, and joy through the practice of yoga and meditation.